THE FUTURE OF EXHILARATION.
WELCOME TO THE STABLE: ALL-ELECTRIC MUSTANG MACH-E
AN ELECTRIC NEW ADDITION TO THE MUSTANG FAMILY
Built from all the passion of its iconic heritage, Mustang Mach-E is a new shape of freedom. Get ready for 0-60 thrills with zero emissions. Reserve your First Edition. Quantities limited.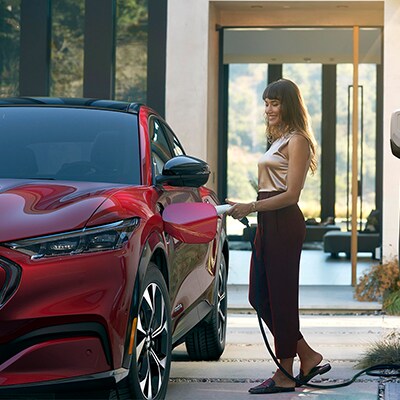 Driver Profile and Personalization
Mustang Mach-E recognizes you as soon as you get close using your Phone As A Key. Then it automatically adjusts the seats, mirrors, radio, lighting and instrument panel just the way you like it.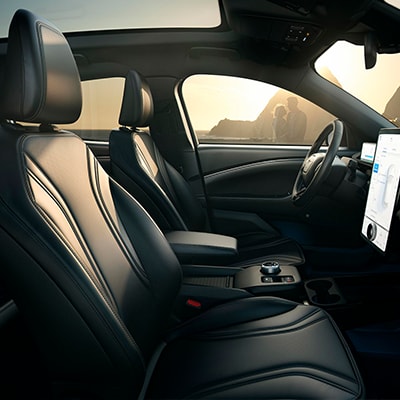 Drive Experiences
Your Mustang Mach-E will match your mood. You can select your Drive Experience to fit the moment—and the interior sound, lighting, and even the responsiveness will adjust to your style – whether it's Unbridled, Engage or, when necessary, Whisper.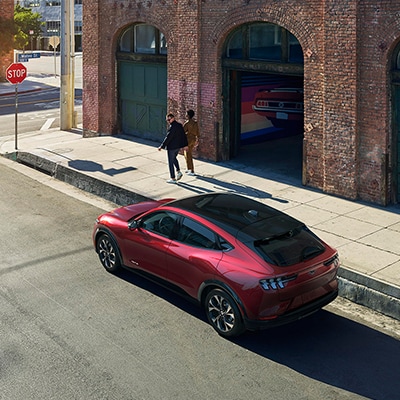 Driving Ease with Next Generation SYNC
The new intelligent, voice-activated, next generation SYNC
®
 provides a driving experience that's designed around you. As intuitive as your smart phone, its user-friendly design makes it easy to personalize and update your drive right from your mobile device or on your computer.  Other highlights include cloud-connected navigation, a customizable cluster screen and premium 15.5-inch touchscreen and modem-based over-the-air updates. It can even help you locate your next charge.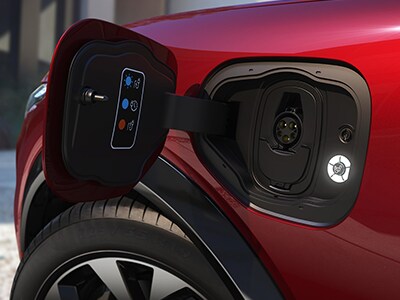 PUBLIC & DESTINATION CHARGING
With available 150 kW chargers in the FordPass™ Charging Network, the Mustang-inspired all-electric SUV can charge an estimated average of 47 miles of range in approximately ten minutes, and from 10-80% in 45 minutes.*
You won't need to pay or sign up for multiple charge networks. Ford gives you two years of complimentary access to the FordPass™ Charging Network for easy pay-as-you-drive charging.
The FordPass™ Charging Network also offers more than 12,000 public charging stations and growing - making them as ubiquitous as some of the most popular pharmacy or coffee chains.***  Check out the interactive map to see the FordPass Charging Network charge points near you.
TARGETING 0-60 MPH IN MID 3 SECOND RANGE
The rush is real. Experience all the power, performance and passion of a legendary pony GT.
TARGETED EPA-EST. 300 MILES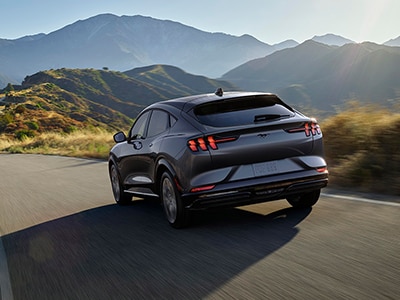 FULL CAPABILITY
Available electric all-wheel drive delivers exceptional handling and capability. Front and rear motors distribute power to individual wheels, so it can help you take on snowy roads.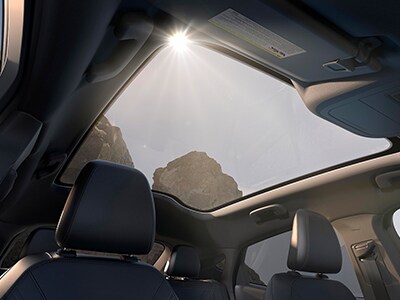 THE LUXURY OF SPACE
Exhilaration is better when it's shared. An impressively spacious interior with plenty of legroom means everyone will love the ride.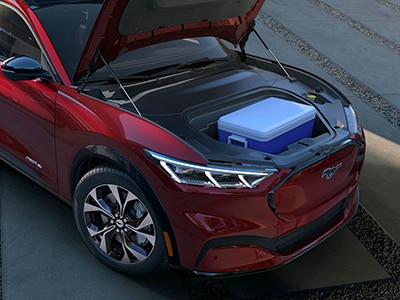 FRONT-LOAD FREEDOM
A convenient front trunk levels up your adventure game. Not only is this added 4.8 cu. ft. of storage space water-resistant, it's washable and features a convenient drain, making it perfect for tailgating, camping and muddy gear-toting.
100% SUV. 100% SOUL-STIRRING.
THE ICING ON THE CAKE
Compare total cost of electric ownership and see how much you could potentially save in the next five years vs a gas vehicle.
YOU MAY QUALIFY FOR FEDERAL INCOME TAX CREDITS AS MUCH AS $7,500.
Depending on where you live, and your personal tax situation, you may qualify for Federal, state and city tax incentives for driving an all-electric vehicle.
NOW ACCEPTING ORDERS!
Two methods to reserve the All-Electric Mustang MACH-E:
Buy From an EV Certified Ford Dealer

Dealer Inputs Reservation Information into ROVP

Collects from customer:  $500, copy of license, and signed Terms & Conditions
Uploads documents into ROVP site

Dealer submitted reservations are time-stamped and are treated exactly the same as a reservation placed online

Customer Receives:

Email confirmation with reservation number

Dealer Receives:

Email confirmation with reservation number and customer info

Ford.com Online

Customer:

Configures Vehicle
Selects Dealer
Creates Ford account and pays refundable $500 reservation fee to Ford
$500 refunded if customer cancels their reservation or when they place the final order with dealer

Reservations are time-stamped

Customer Receives:

Email confirmation with reservation number and can view or cancel reservation within their Ford account

Dealer Receives:

Email alert of all online reservations
* Indicates a required field
Hours
Monday

9am-7pm

Tuesday

9am-7pm

Wednesday

9am-7pm

Thursday

9am-7pm

Friday

9am-7pm

Saturday

9am-5pm

Sunday

Closed