Quick Lane at Court Street Ford
Our Quick Lane employs certified technicians that are able to perform the maintenance that your vehicle needs to keep you on the road for many miles to come. Whether it is something as simple as an oil change or a complete brake service is needed, the Quick Lane at Court Street Ford is ready to serve you.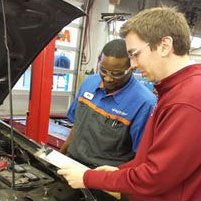 Low Price Tire Guarantee
With the Low Price Tire Guarantee, the Quick Lane at Court Street Ford can assure you that you are getting the best price on the 13 major brands that we stock, which include BF Goodrich, Goodyear, Michelin, Continental, and many more!
Treat Yourself and Your Vehicle
With no appointment necessary you are able to stop in without notice, and we will get your vehicle in as quickly as possible. You also have the option to reserve an appointment ahead of time with as little as 2 hours notice, depending on appointment availability. This assists us in making sure we have technicians and parts readily available upon your arrival. You may book your appointment Online, or call 888.850.0952 to schedule with a Quick Lane advisor. While you wait we have complimentary snacks and beverages, with others that are available for purchase.
Oil Change and Maintenance
Getting your oil changed on a regular basis is probably the single best thing you can do for your vehicles engine. Fresh oil in your engine keeps it clean, lubricated, and allows an efficient flow. Quick Lane technicians are eager and ready to serve you. Choose from two options that give you the maximum value. No matter what make or model your vehicle is we assure you only high-quality oil and filter products from Motorcraft extends the life of your vehicle, and also can help improve gas mileage.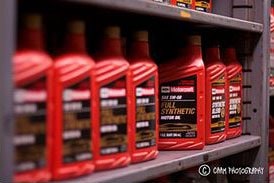 The Works
There is no shortage here on what you will receive with this money saving package! A premium-quality Motorcraft Synthetic Blend oil change, tire rotation and pressure check, brake inspection, battery test, vehicle check-up, fluids topped off, and much more!
Oil and Filter Change
A premium-quality Motorcraft Synthetic Blend oil change, and a basic vehicle inspection is performed.
Tires
Whether you are looking to replace, rotate, or repair your tires the Court Street Ford Quick Lane is ready to serve you! Our factory-trained technicians have the experience and training needed to make sure you stay safe out on the road. The best part yet is we carry 13 name brand tires that we have a low price tire guarantee. So if you can find a better price on the same tire we will beat it!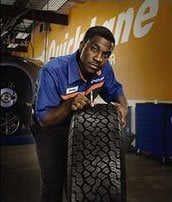 Keep an Eye on your Tires
Making sure your tires are properly inflated can prevent unusual wear, as well as rotating your tires every 5,000 miles.
Stop into the Quick Lane if you notice:
Tire tread depth is less than 3/32" or if the tire tread has worn down to the wear bar.
Holes in a tire tread or sidewall
Immediate loss of pressure
Sudden vibration while driving
Poor handling or loss of traction on sick surfaces
Tire Brands
These 16 brands we guarantee you will get the best price on everyday!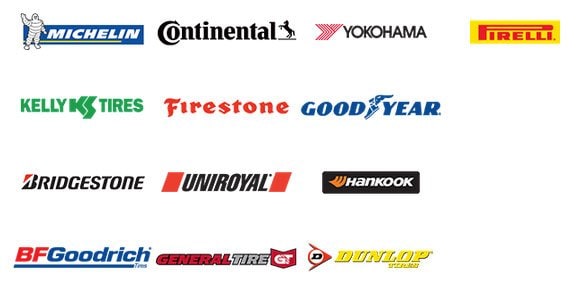 Brakes
Don't Choose the "Other Guys" Brake Pads
Grinding, squeaking, pulsating are words that never want to be used to describe the noise or feeling when you stop your vehicle, but none the less, it happens every day. Your brakes are considered to be the most important safety feature on your vehicle. While they may be stopping your vehicle; they may not be working their best. Stop by and let a certified Quick Lane technician inspect your brakes for FREE!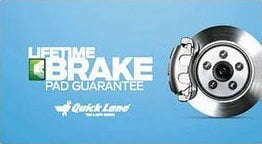 Lifetime Brake Pad Guarantee
There are many advantages to using Motorcraft brake pads and rotors. The top one that comes to many is the Lifetime Brake Pad Guarantee (See Advisor for Details). Other benefits include longer durability, uniform surface finish on rotors, and advanced friction formula that assists in reducing noise and vibration while still providing high braking performance.
What to Watch For
Squeaking or grinding
A buming odor
Brake pedal that is hard-to-press or "Squishy"
Shuddering or vibration in the steering wheel
Rusting of flaking in your brakes or rotors
Brake system warning light illuminates in the dash
Alignments
Guard against uneven tire wear with a wheel alignment
Whether you live on a bumpy road, or have some potholes that have been ignored by road crews too long, these overtime can cause your vehicles alignment to be off center. Restoring proper alignment can result in even tire wear, improved handling, and a more efficiently running vehicle.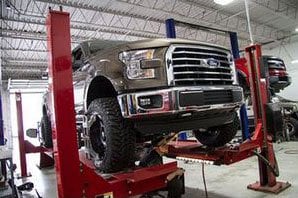 Therefore whether you drive in stop-in-go traffic, or cruise down the open highways ensuring proper alignment can prolong the life of tires and reduce the wear on other key steering components.
Stop in today for a FREE alignment check by one of our Certified Technicians to ensure that your vehicle and your tires are performing at peak capacity.
Batteries
You Never Want to be Stranded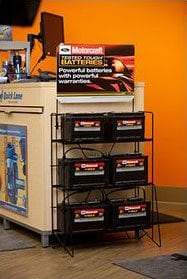 A worn out battery can leave you and your vehicle stopped in your tracks. Is there some hesitation in the starting of your vehicle? Slow turning over? Concerned about the weather ahead? Stop into the Quick Lane for a FREE battery inspection, and we will make sure that it is ready for the adventures ahead. If your vehicle needs a new one, no worries, we stock quality Motorcraft batteries that are right for your vehicle.
Cold Cranking Amps
You may ask, "What is a cold cranking amp?" That is a very good questionn. Cold Cranking Amps (CCA) is the industry standard for measuring how long a battery can supply power at 0° F.